My partner and I have been together for almost 6.5 years and we just got engaged last month. Having lived together for almost the entirety of those 6.5 years across 6 different cities, 12 different addresses, and now owning a home together, both of us had recognized for at least a year that we saw marriage in our future together. Over the years, we would have conversations about what marriage meant to us, what it would mean to our partnership, and how we would craft its meaning to serve our identity. We have always taken pride in being somewhat unconventional, not just by default of identifying as gay, but in the way we've built businesses together, built lives and friendships in several different cities together over a relatively short period, along with other factors. Being that neither of us is religious, it's important to us that our marriage (and engagement) coincided with these identities we've built together.
Gay Proposals – Where to Start
No matter how long you've been with your partner, whether it's been two years or ten, every situation will be different. Some partners may decide only after a year that they've found the person they want to get married to, while others may take longer. No matter your situation, I'd recommend having open and honest conversations about where you both see yourselves in the future. Does your future include marriage? What does marriage mean to you? How would you like to define your meaning of marriage to fit your identity and your relationship with your partner? This will help you first understand the needs, expectations, or other factors your partner might be thinking about, and could also give you insight into ideas to use for your proposal ritual.
When should you start having these conversations? In my experience, this type of dialogue happens organically as you get to know your partner better – you just have to be paying attention and making mental notes. You can also choose to ask your partner more targeted questions if you're looking for specific unanswered questions about getting engaged or getting married. If you don't feel comfortable having these conversations with your partner, you might want to consider the idea that you're not ready to get engaged quite yet.
All of this is to say – my recommendation would be to first make sure you both are on the same page regarding a few key factors before starting to plan your proposal. In summary, these factors would be:
Do both you and your partner identify with the idea of marriage?
What does marriage mean to you and your partner?
Planning a Gay Proposal – Which Partner Should Propose?
I think this is an especially tricky subject, particularly if you are trying to keep the proposal a surprise. Unlike straight couples where the expectation has historically sat with the male counterpart, gay couples have the opportunity to write their own rules and rituals. I think this makes our version of a marriage proposal all the more exciting, but challenging at the same time.
In my experience proposing to my partner, I stated previously that we had already discussed openly our goals for our future together, how we viewed marriage, and the meaning of marriage to us, so these discussions were already cleared and out of the way. My partner and I are also fairly scrupulous at planning (it was not always this way, but fortunately we've gotten pretty good over the years), so I decided to tell my partner that I would be the one to propose. I didn't share any further details with him – no information about where, when, or how, but I did want to establish that I would be the one to organize the proposal ceremony.
As you're reading this, you might be thinking that this would take the fun and surprise out of proposing. Perhaps you're right in some ways, but in our situation, I think this made things easier and less stressful. Instead of having to worry about whether my partner was also actively planning to propose, us both knowing who was going to propose to was one less thing to worry about. 
Do You Need a Ring?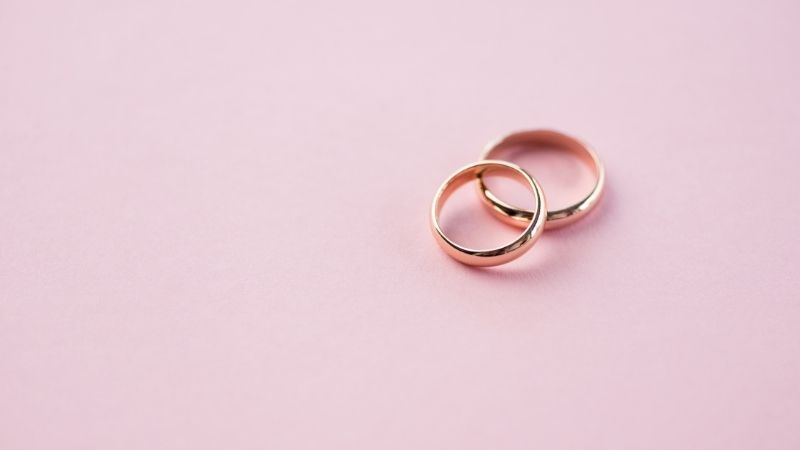 I think the need to have a ring is a common misperception, and it certainly was for me and my partner. While it is nice to be able to wear something around as a tangible token of your engagement immediately after the proposal, several factors go into getting a ring that we didn't realize until we experienced them.
As I stated above, my partner and I had openly talked about what marriage meant to us, and I established that I would be the one to eventually propose. During this process, we also decided to get ring fittings so I would know what size my partner would wear. While some of you reading this might find this unromantic and orchestrated, similar to what I stated above, this was just one less thing to worry about.
However, what we quickly learned after visiting a jeweler in person and becoming educated on the hundreds of different rings styles is that:
Both of us have a VERY particular taste
Both of us have a VERY particular taste
Both of us have a VERY particular taste
At this point, I think you understand what I'm getting at. Unlike engagement rings for women that typically all look fairly similar, only differentiated by the grade and karat of the primary stone/diamond, there are really no "engagement rings for men." Instead, we learned that many gay couples use their engagement ring as their eventual wedding band, and these types of bands differ wildly in styles, stone types, craftsmanship, size, and so many other factors.
In my opinion, the biggest thing for you to consider when deciding whether to propose with a ring is how much of a "surprise" you want your engagement to be. Given that my partner and I are historically big planners, we found the process of choosing ring styles and stones together quite enjoyable and romantic. We worked with a local (incredible) jeweler on some very custom designs we liked that met our unique tastes. If you know that your partner also has a very particular taste, you could choose to purchase a temporary band just for the ceremony and work with your local jeweler on an agreement to return it after so long as you work with that jeweler on your permanent engagement/wedding band. Or, you could take the route we took and work together with your partner on a set of rings.
Alternatively, you can choose to propose without any ring at all. In my opinion, the age-old, westernized concept of the man presenting a big stone to a woman as a representation of his commitment and intention to eventually marry is pretty antiquated. Instead, you can present your partner a handwritten letter during your ceremony that you open and read to them, or present nothing tangible at all and instead recite a poem or lyric that you both love.
For us, we ultimately decided that we wanted our rings ready for when that proposal day comes because we love jewelry, and we wanted something to be able to wear around after (both for pictures, but more importantly to be able to physically feel something on our skin that made us think back to that moment). My recommendation is to think about what's most important to you, whether it be the element of surprise, working together on a set of rings, or otherwise, and factor that into your decision.
Should You Propose on a Trip?
I'm going to keep coming back to this one point – the way you propose should be deeply personal to the relationship you've built with your partner, factoring in your shared interests and pastimes. My partner and I love to travel – we've been all over the world together, and many of our most exciting adventures together have been during our trips abroad. Naturally, since traveling is a big part of our identity, I wanted to propose during a trip somewhere exciting.
Something else both of us quickly learned over the weeks following our engagement proposal is that EVERYONE wants to know how it happened. Your friends, family, and colleagues want details of where the proposal happened, who proposed to who, if anyone else was there to watch, and so much more. Every time I look back and tell that story, I think fondly of the location, the setting, and other unique details that make me smile and have an opportunity to re-live that moment. This is definitely something to consider – just know that you only have 1 chance to make a (first) marriage proposal to your partner, and assuming they will say yes, you'll want to choose a place that will make you feel happy every time you think back to that moment.
In November 2021, my partner and I had a trip planned to Europe for almost 10 days, first starting in Barcelona and ending the trip in Paris. It was a trip we had planned really meticulously for many weeks preceding the trip, so we were very excited. While I know that some think that proposing in Paris is cliche and overdone, I immediately knew this would be the place. I knew that I'd have no problem crafting a plan that was unique and meaningful to us, so what better location to propose than Paris?
In planning your location, there might be other factors that are more important to you. Some people choose to propose to their partner at the location where they had their first date, which I think is especially cute. I have other friends who get embarrassed when attention is drawn to them from strangers in public, so their partner decided to propose somewhere private to make the experience less stressful and more intimate. My recommendation would be to choose a spot that's special to both you and your partner and where you both will feel safe and comfortable at that moment.
Does Time of Year Matter?
In my opinion, the time of year you choose to propose does matter, depending on whether you live in a climate that has seasons, or somewhere that's warm year-round. If you want to hire a secret photographer or videographer to document the proposal, attire is something you will have to think about. When I proposed to my partner in Paris, it was about 32 degrees Fahrenheit, so both of us were bundled up in layers, peacoats, and scarves. And while I don't regret choosing that trip or location for a second, the pictures that my photographer captured of the event obviously depict a winter environment, and given that we're from South Florida, you can definitely tell we were freezing our asses off. Additionally, natural lighting in a winter climate is vastly different from summer or fall sunshine, so if those pictures of the actual proposal are important to you, this is something to consider.
Should You Hire a Professional Proposal Planner?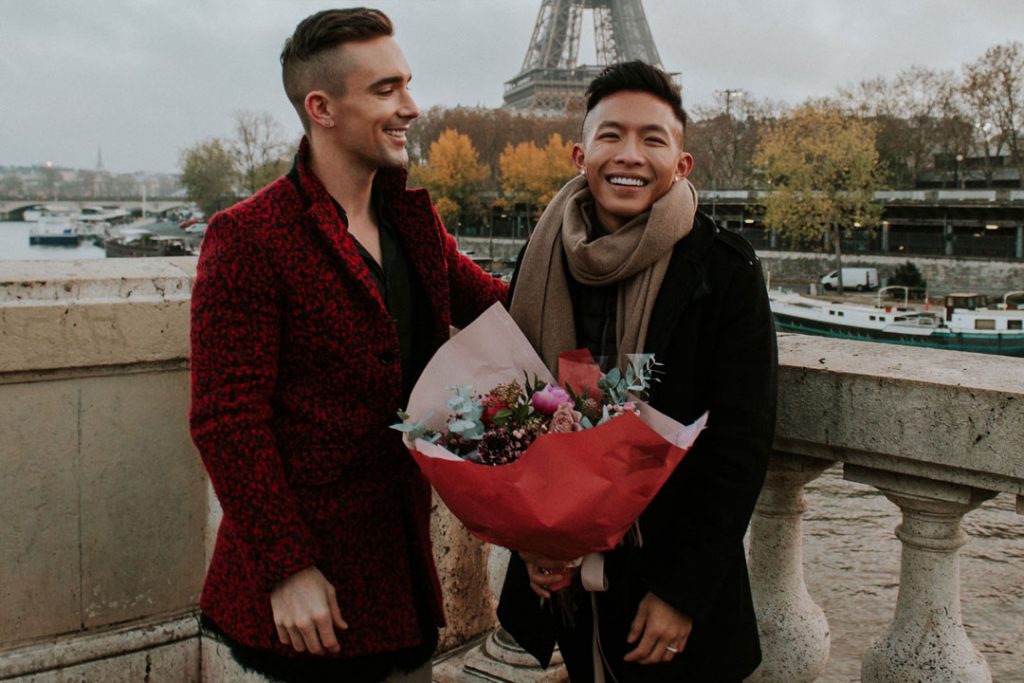 Like I said before, what my partner and I learned in the weeks (and foreseeable future) after the proposal is that your proposal becomes a story you tell over and over again. The more I tell this story, the more I'm able to look back and remember that special moment, down to the details of what we were wearing, the music, the laughter, the happy tears – all that jazz. Whether you decide to work with a professional proposal planner or not, I'd just encourage you to remember that whatever you decide to do will become a story you tell, so in many ways that moment is priceless.
For my proposal to my partner, I had already established that I wanted to make it happen during our leg of the trip in Paris. Given that I'm an American who's not fluent in French and had only been to Paris once before as a child, it was important to me to have someone guide me through my planning process and help me curate that unique moment.
It first started as I was searching for different locations to propose in Google. I'd type in phrases like "best places to propose in Paris," and many of the results were generic listicles of big tourist attractions, none of which spoke to me as the right spot. During my searching process, I also found many websites and services that offered proposal planning services that catered mostly to straight couples (you could see this in the pictures these websites used across their imagery). I also found many of these sites to be somewhat bland and uninteresting, offering generic pre-packaged services.
I changed my search slightly to look for "best gay places to propose in Paris" and stumbled upon a website that specializes in helping LGBT couples plan their proposals called Gay Proposal in Paris (definite kudos for the clever name choice). What I liked most about what I was reading on their website was the emphasis on offering a bespoke experience. While there were some packaged ideas to choose from, Gay Proposal in Paris explained that they can help curate a unique, specialized experience, working together with their clients to cater to particular interests or needs.
I immediately knew that this was the route I wanted to take, and as I started communicating with the business owner, Florian, I was all the more convinced. I was very particular regarding certain things I wanted for the proposal – I wanted an acoustic guitarist and a singer to sing two songs (one of Jennifer Lopez's most iconic songs since my partner loves JLO, and perhaps the most iconic song by Chaka Khan since it's one of my favorites). I also wanted to do it right as the sun was rising since it would be totally unexpected and the lighting would be great, as well as a photographer to capture the event, and I worked together with Florian to pick a location that we knew wouldn't be overrun with tourists but would still be extremely romantic.
Given that Florian is Parisian, gay, and has excellent taste (as I determined from Gay Proposal In Paris's Instagram and website), I felt confident that he was steering me in the right direction in curating the event. He chose a delicious bottle of champagne from a winery in the South of France, a beautiful and unique bouquet of flowers for me to give to my partner, and coordinated with a phenomenal local guitarist and singer who learned both songs to play during the ceremony. He even went to the location we had chosen several times on days leading up to the proposal (at sunrise) to see whether it was crowded or not.
Given that my partner and I were in Paris for a little over 5 days, we had tours and museums planned throughout our trip. I tricked my partner into thinking that we had a tour to attend on the morning of the proposal which began at sunrise, and fortunately, he did not suspect anything unusual! From arriving at the location where I proposed to the coordination of the flowers, champagne, wonderful musicians, and photographer, Gay Proposal in Paris made everything happen in a seamless and beautiful way. Now, looking back at that moment and being able to retell that story, I'm so happy that we were able to work with a professional like Florian.
Depending on where you want to propose, how elaborate and/or public you want it to be, and whether you want to include any quirks or particular things like live music, you might find it not only easier, but also enjoyable to work with a professional who plans proposals regularly. They can help guide you through the best location to fit your needs (especially if you are proposing somewhere you're less familiar with) and can take the hassle out of coordinating all the other details you want to include. In my opinion, I think working with a professional is a great idea, especially if you can find offerings that cater to the gay community.
What to Wear
If you're going to hire a secret photographer to capture the event, you'll want to consider wardrobe choices you'll smile about years later when you reflect on those photos. The difficult part is how to prepare your partner for getting photographed, especially if you're trying to keep the proposal a surprise. Before I proposed, I told my partner that we were going on a sunrise walking tour of Paris. I also told him that it was a unique "content creator's tour," so there would be a professional photographer there to capture whoever wanted to get photographed as we visited iconic landmarks in Paris.
If you're trying to keep your proposal a surprise but also want your partner to be well-dressed for the photos, you could choose to go a similar route. For example:
Tell your partner you're taking them to a niche fashion show
Tell them you made reservations for a fancy dinner
Tell them you're taking them to the opera
I'm sure there are many other imaginary events you could make up that might necessitate a cute outfit.
Always remember that you can choose to take staged engagement photos later on after you propose. I've found that many couples do this, sometimes weeks or months after they get engaged, so the photos of your actual proposal don't need to be perfect.
What to Say When Proposing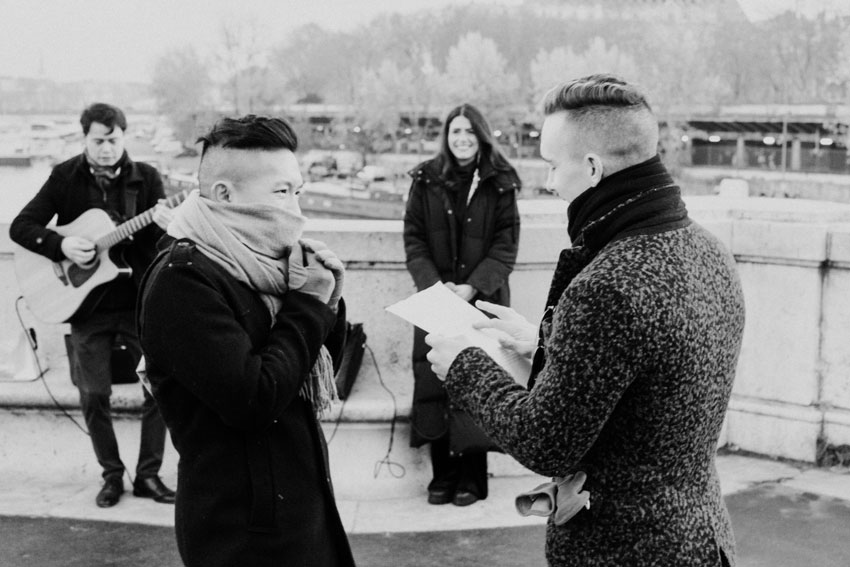 When I worked with Gay Proposal in Paris, Florian told me something interesting. He said that when the time comes to propose, no matter how well-prepared you think you are, the excitement of proposing can be very overwhelming and disorienting. In his experience, he's seen many people forget what they wanted to say when proposing, even when they had rehearsed.
He recommended writing a letter to your partner with everything you want to say, just to have on-hand. At that moment when you propose, you can then choose to either recite something from memory or use the letter as a backup.
I think this makes a ton of sense for two reasons. One, personally having experienced the overwhelm and excitement of proposing first-hand, I can easily see how people who thought they were well-prepared could become flustered and forget what they wanted to say. Two, the act of writing everything down in advance helps you structure what you want to say in a way that is less formalized and organized compared to doing it in your head, so even if you end up not reciting from the letter, you already know what you want to say.
Should You Get Down on One Knee?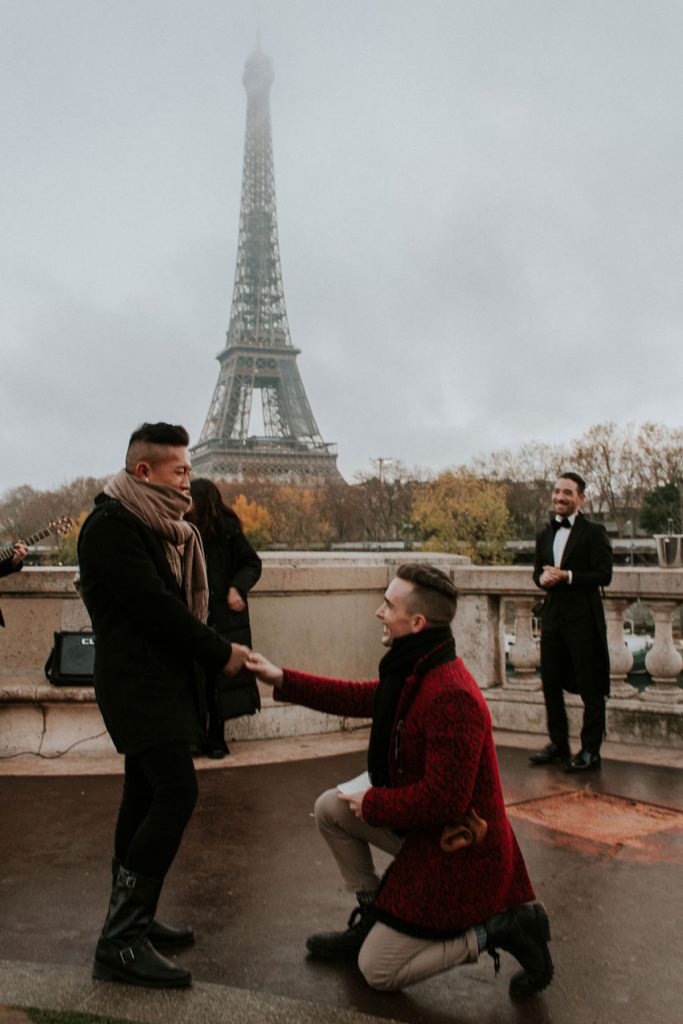 Again, I think you should do whatever makes you and your partner feel most comfortable at that moment. However, if you are planning on getting down on one knee, I would recommend practicing this in advance. Even though I frequently do lunges at the gym, getting down on one knee while trying to hold your partner's hand and fishing a ring out of your pocket (if you decide to use a ring) can be a challenging task! My recommendation would be to decide beforehand if you are going to get down on one knee, and if you are, practice before the event. Also – if you are hiring a photographer, getting down on one knee looks great in pictures.
Final Considerations
All in all, proposing to your partner should be fun, exciting, special, and highly personal to your relationship. Whether you decide to use a ring, work with a professional, hire a photographer, or get down on one knee, I think the most important thing is to think ahead of time about how you want to remember that moment. Think about the story you want to be able to tell your friends and family about that event during the holidays, at dinner parties, or even to your children if you decide to have any. But, most importantly, think about the story you and your partner will remember together many years later, and the laughter and happy tears that follow.