Five riads are better than one at the luxury La Sultana hotel in Marrakech's Medina.
Our taxi drops us off from Marrakech's airport to a street in the city's UNESCO-listed Medina, a nearly thousand-year-old walled city. We mishear our driver's directions and end up walking down the wrong street, which when you are in the maze-like Medina is very easy to do.
A group of seven kids takes pity on us and directs us in the right direction. They ask us questions in French as we make our way to the right passageway where we are greeted by a doorman in a smart red top and billowy cream trousers.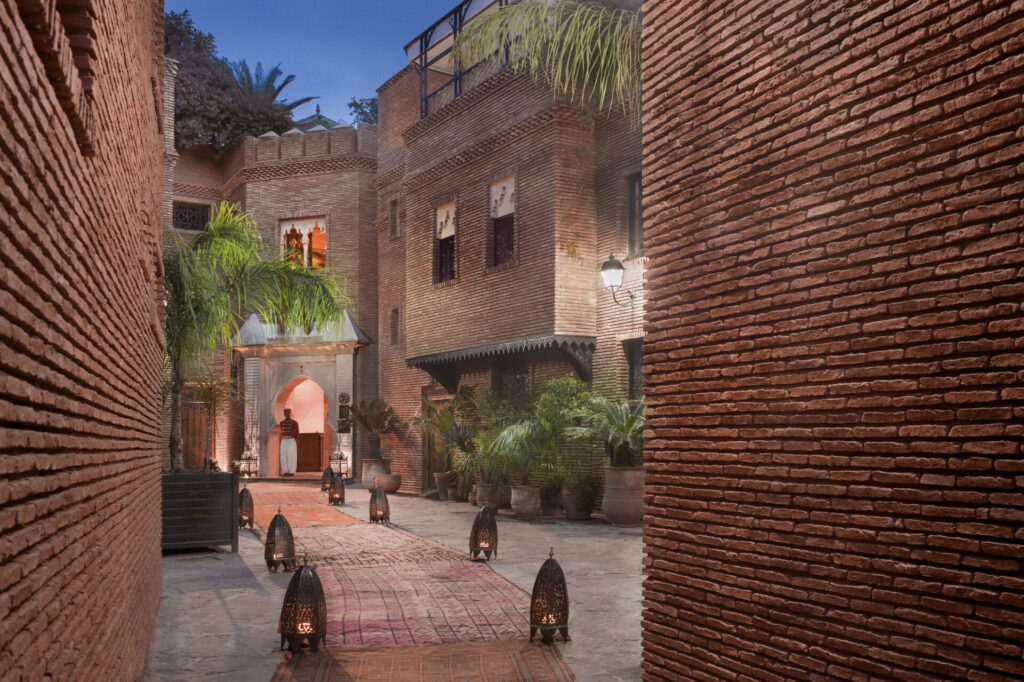 We wave goodbye to the helpful kids and are ushered from the dusty streets to the oasis of the La Sultana hotel. We sit down in a courtyard with a central fountain engulfed in vibrant palm plants and served our first of many Moroccan mint teas.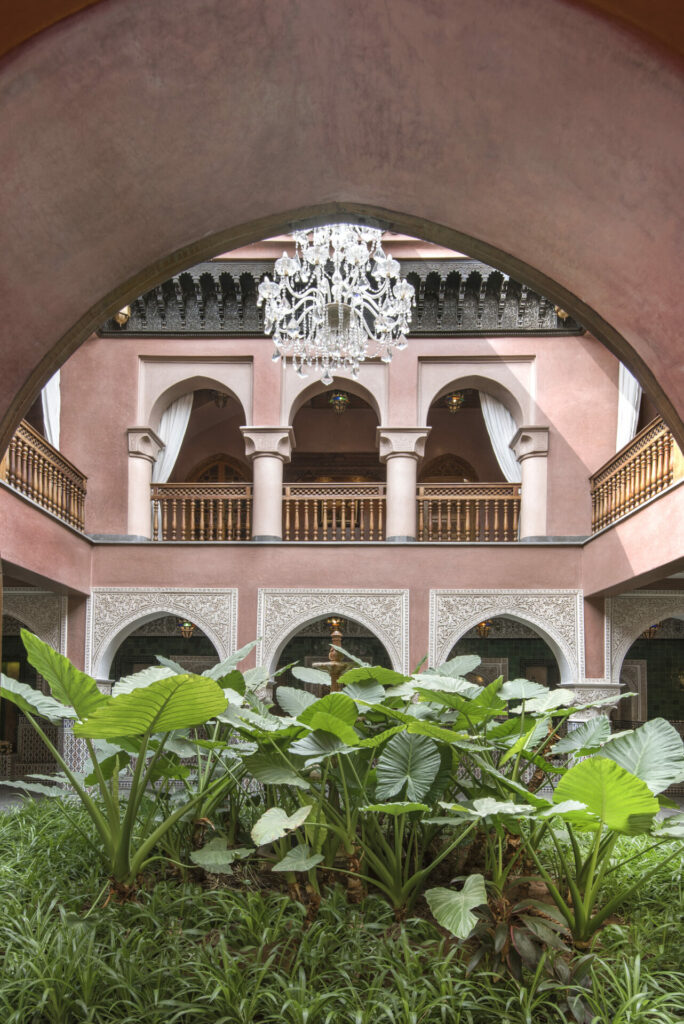 We then head up a flight of stairs to the Jaguar Suite. A large sitting room leads onto a bedroom and marble bathroom with a separate shower, an octangular bath and double ornate brass sink. Carved teak doors separate the rooms within the suite and there is a balcony that overlooks a stunning white courtyard with a plunge pool.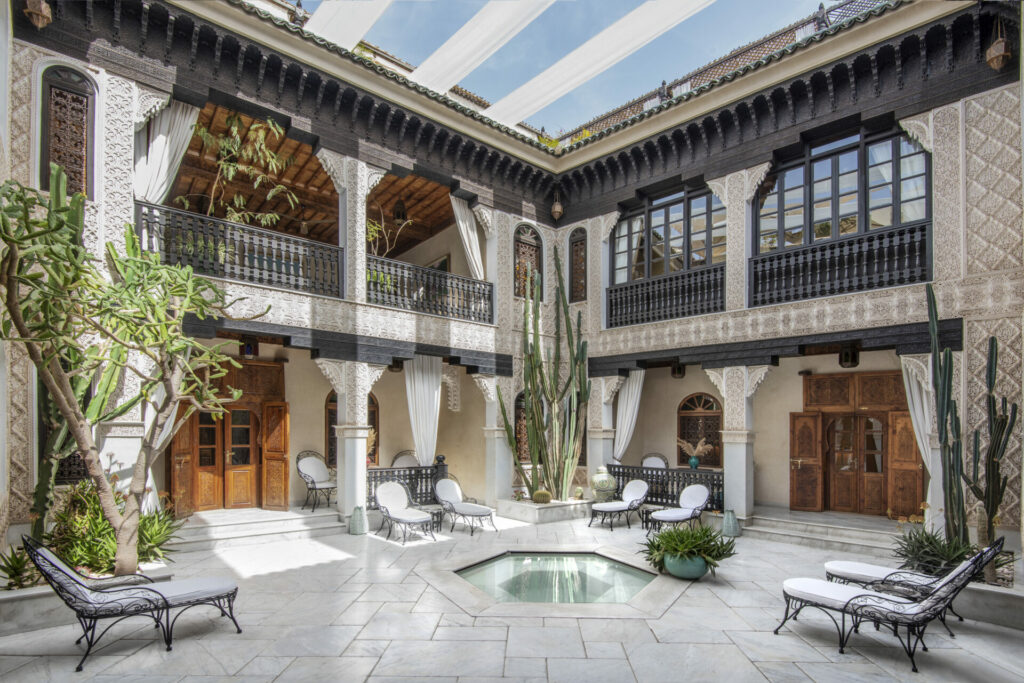 The hotel has 28 rooms and suites across five riads; traditional Moroccan homes with an interior garden or courtyard. The unique riads have been seamlessly connected and it is a pleasure to walk from one to another and admire the design and craftsmanship of each.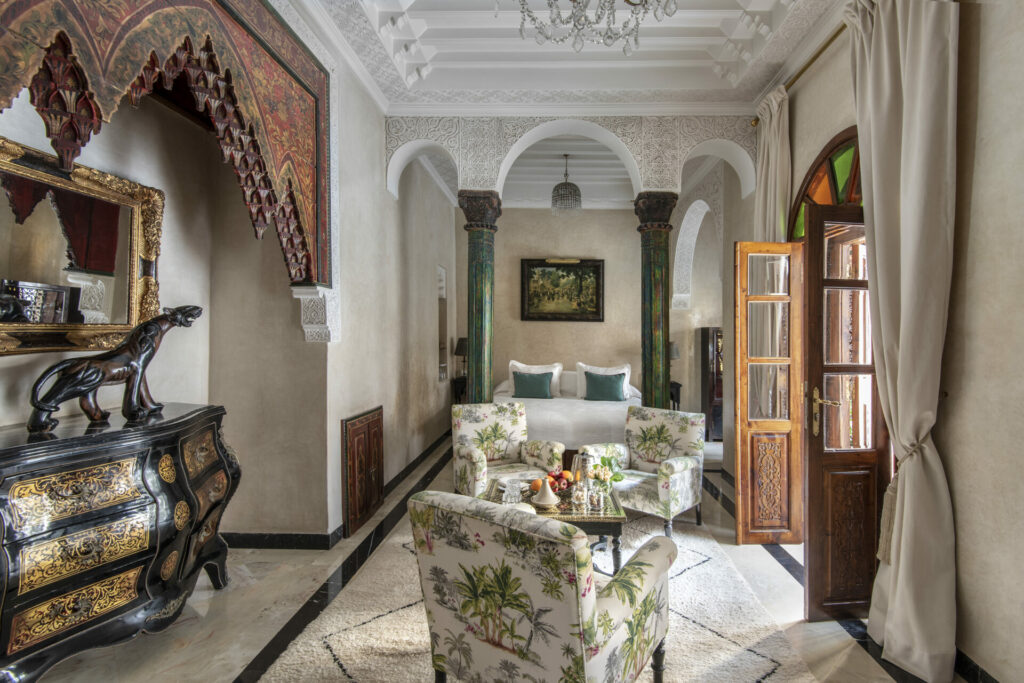 Riads focus inwards, often with no exterior windows. But views of the Medina and beyond can be found one floor up on the rooftop. The expansive rooftop has sun beds, a gym, a cooking school, a bar, and the Le Odette restaurant. Because buildings in the Medina are restricted in height there are views of the snow-capped Atlas Mountains in the far distance visible on clear days.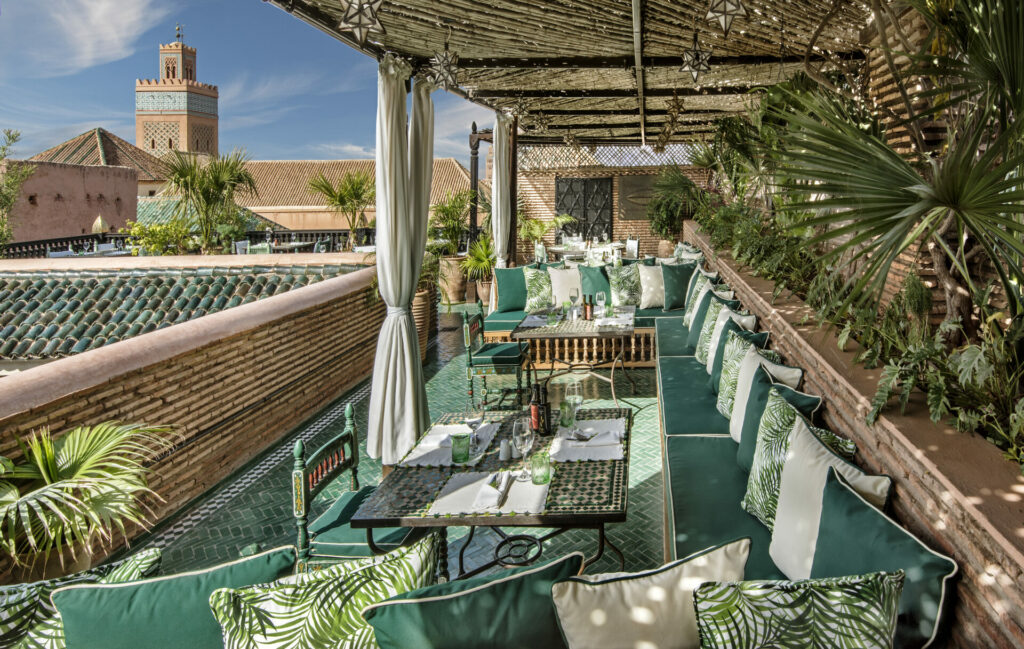 In the morning we have breakfast at a white linen-covered table next to the ground floor open-air pool. The menu offers a mix of local Berbier dishes as well as traditional Western dishes like eggs benedict. The potions are small, but they happily bring us more when we asked.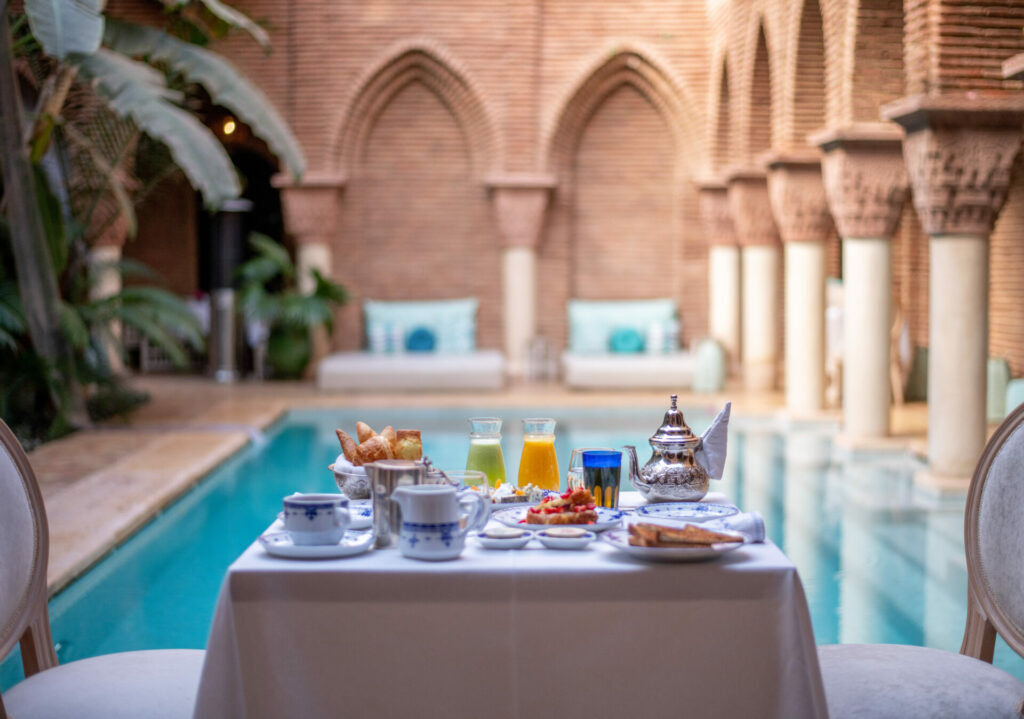 It's an idyllic setting for a meal with turquoise scalloped-shaped pool tiles glistening in the sun surrounded by the unique thin-brick walls and large palm plants. And at night the place takes on an even more romantic atmosphere with steel Moroccan lanterns adding a warming touch under the night sky.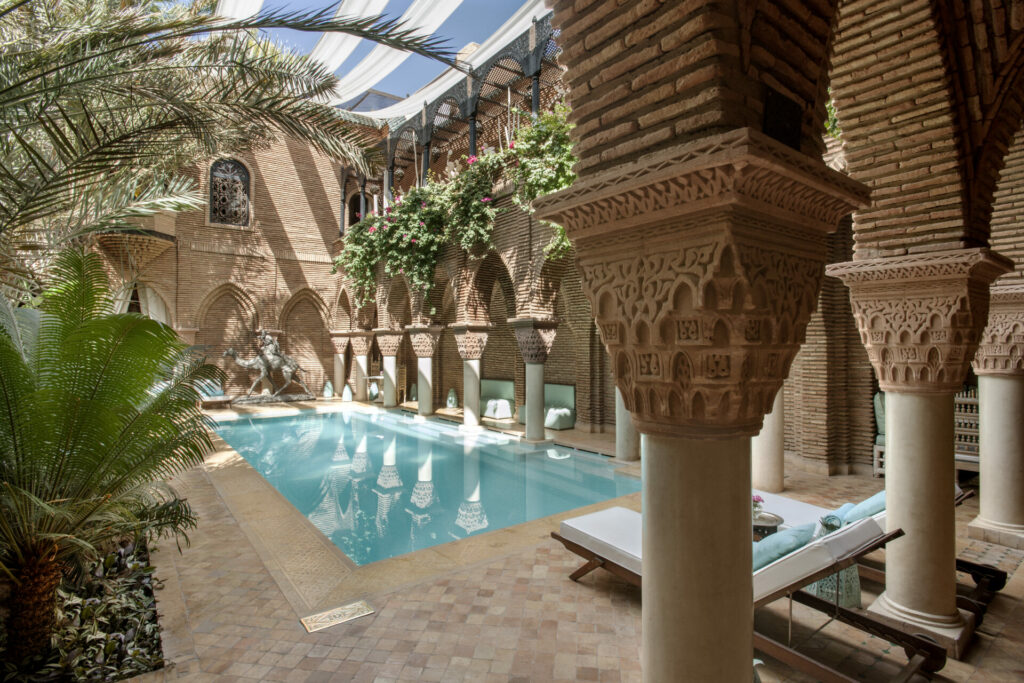 The dinner menu is an offering of French and Moroccan dishes. We both start with a pastilla, a delicious Moroccan meat pie, followed by a couple of seasonal tagine dishes and a deconstructed profiterole to share.
And no trip to Marrakech would be complete without a trip to the spa. La Sultana's indoor spa pool surrounded by pink marble columns is incredibly inviting and the perfect spot to relax before and after treatment. On my visit, I decided to go for a traditional hammam where I am taken to a small marble room and laid on a marble slab. I'm scrubbed and washed with fragrant black soap and an exfoliating mitt by a spa attendant. Between scrubs, I am left in the steamy room on my own to soak up the mist and let time melt away. After my skin was super smooth and refreshed.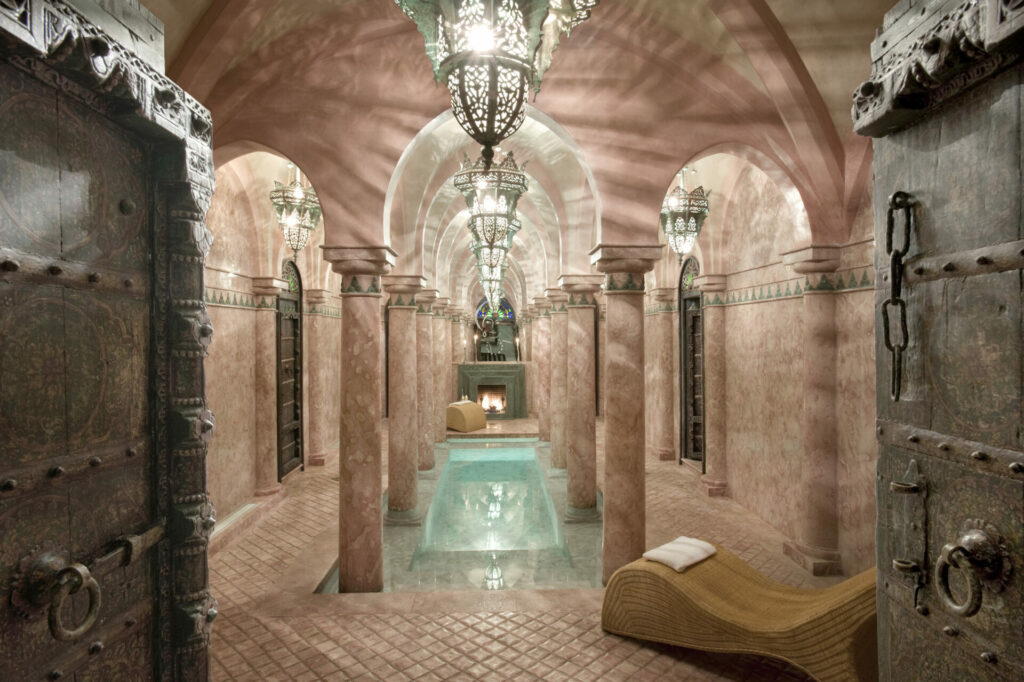 A hotel is only as good as its staff and at La Sultana they were always happy to help us, especially the concierge. We tried to visit the famous Jardin Majorelle, the gardens surrounding French designer Yves Saint Laurence's cobalt blue house, only to arrive at a long static queue outside the entrance, so we left to explore elsewhere. We were not able to book tickets for the next day online, but the concierge was able to secure us tickets for the following day.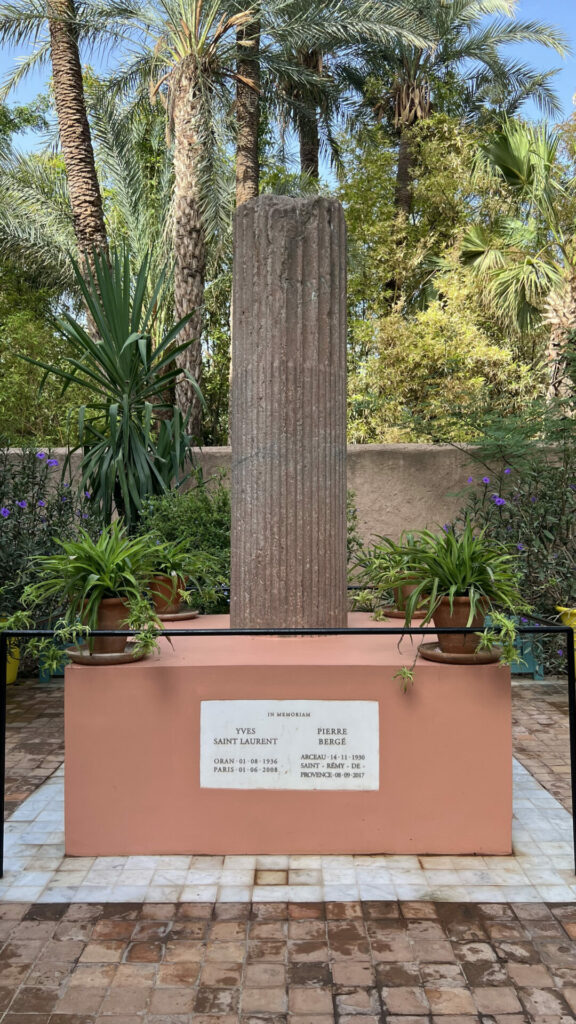 In the gardens, there is a memorial to Yves and his partner Pierre Berge, which is a reminder that while this gay relationship and many others endured in Morocco, gay relationships are illegal here (up to 5 years imprisonment), and attitudes towards the LGBTQ+ community are particularly harsh.
Gay men often avoid countries where these archaic laws persist, but Morocco seems to be one of the destinations that continues to allure our community. Yearly LGBTQ+ group tours are offered by gay-owned companies like Source Events and Out Adventures, and there is a lot to appreciate in Morocco. But it is also important to know you have a safe haven to rest and La Sultana was ours between trips around the shops haggling with shop owners in the Medina and other cultural sites.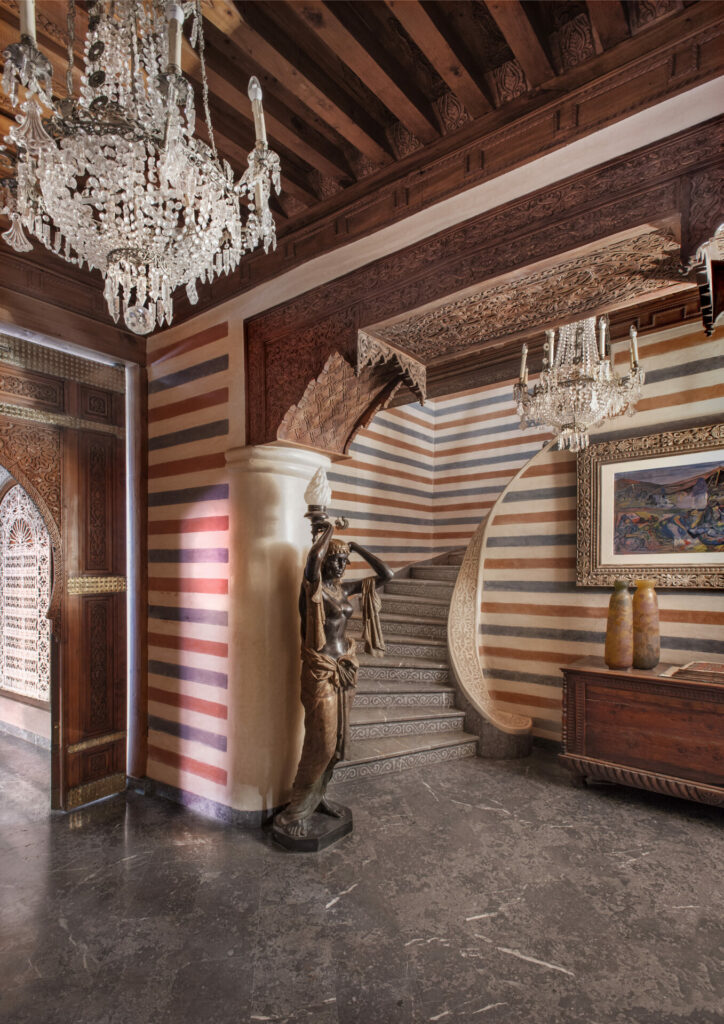 For my boyfriend and I, it was important to stay somewhere we felt safe. It was just a bonus that La Sultana experience also offers the Moroccan charm of a riad with the comforts of a luxury hotel.