SAY "ALOHA" TO A SUNS-OUT-BUNS-OUT WAY OF LIFE!
Contrary to popular belief, sunbathing in the buff on Hawaii's beaches is not illegal. But, nudity is prohibited in state park beaches, such as Honokohau Harbor Beach.
That said, many beaches in Hawaii are not located in state parks, so you should definitely bring your birthday suit.
Below, we highlighted several of our favorite Hawaiian beaches where you can strip down and soak up the sun.
BIG ISLAND OF HAWAII
Hawaiʻi (also referred to as the Big Island) is the largest and the southeasternmost of the Hawaiian Islands.
Honokohau Harbor Beach is nestled in the Kaloko-Honokohau National Historical Park on the Kona Coast, north of Honolokohau Harbor off of Highway 19. The north end of this golden-sand shore is a famous gay beach. But it's a federal park, so the no-nudity law is enforced by rangers patrolling the area. But, despite the risks, people frequently strip down.
Kehena Beach (Dolphin Beach) is in the Puna district (Hilo side) off Highway 137 near Mile Marker 19. This is a well-shaded black sand beach guarded by sheer cliffs and towering trees. Due to harsh currents and high waves, we don't recommend swimming at this location unless you're really comfortable in the water.
Steam Vents located near Hilo at Mile Marker 15 of Highway 130, features clothing-optional steam baths in natural caves. Although Steam Vents is private property, the owners permit the public to enjoy the space. A large home nearby serves as a clothing-optional guesthouse called "Steamvent Guesthouse."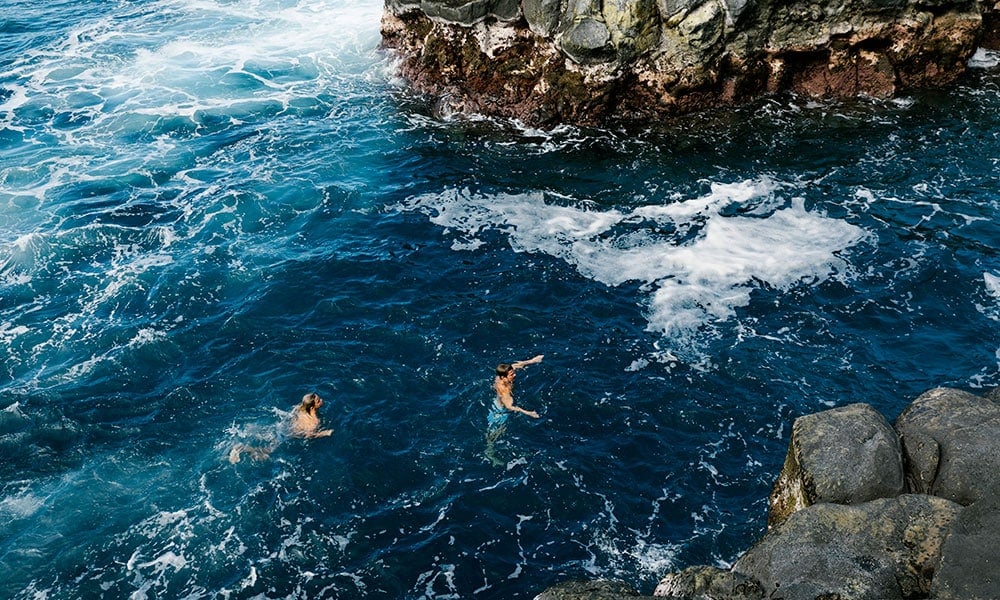 KAUAI
Kauai, nicknamed "the Garden Isle," is the oldest of the Hawaiian Islands, and most of the island is covered in a lush tropical rainforest.
Donkey Beach is located 7/10 of a mile north of mile marker 11 on Highway 56 and hidden from sight on the main road. Access to the beach is via a path through an old sugar cane field on private property. Once upon a time, Donkey Beach was one of Kauai's best nude beaches, but a developer purchased the beach and strictly enforced a no-nudity policy. In short, stripping down at Donkey Beach may not be worth the risk.
Secret Beach, also known as Kauapea Beach, is located at the end of a red dirt road off of Kalihiwai Road, about a half-mile north of Kilauea on Route 56. It is Kauai's premiere nude beach, although it's rare to see many people in the buff. Secret Beach is a yellow sand strand that offers stunning scenery. Swimming during winter is not recommended due to high surf, but you'll find fantastic snorkeling right off the shore at other times of the year.
MAUI
Maui is known as a nature enthusiast's island with incredible waterfalls, bamboo jungles, and lots of exploring to be had at Haleakala National Park.
Little Beach at Makena (Pu'u Ola'i Beach) is next to Makena Beach (Big Beach) but is unreachable by car. To get there, drive to Makena Beach (located a few miles past the Maui Prince Hotel) along Makena Ala Nui road, park at the asphalt parking lot, and hike to the beach. Theft from cars is common here, so remove all valuables from your vehicle. At the northwest end of the beach, there is a trail up the lava rocks that takes you to Little Beach. This is, perhaps, the best spot in Hawaii for nude sunbathing. The swimming and snorkeling are also pristine.
Red Sand Beach in Hana (Kaihalulu Beach) is one of Hawaii's most beautiful beaches, but it is challenging to reach. The remains of a caved-in cinder cone formed the gorgeous cove in which this crescent-shaped cove is located. You will have to drive to the Hana Community Center on Ua Kea Road, next to the cabins that are a part of the Hotel Hana Maui. At the south end of the Community Center is a path that passes by an old cemetery. This path crosses to the shoreline and up and along the face of the outside of the cinder cone. The road is narrow and a little treacherous, but at the end of the path, you'll find the Red Sand Beach. The water is calm and clear, and perfect for swimming or snorkeling. This is a very small beach, but one which should not be missed.
OAHU
Oahu is the most populated Hawaiian Islands and the island most visited by tourists. On a beautiful day, most beaches are crowded with locals and tourists alike.
Polo Beach is a popular spot for nude sunbathers. It is located in Mokuleia, on the North Shore, just West of Waialua, near Dillingham Air Field.
Kahuku Beach is off Route 83, about 2 miles north of Laie on Oahu's northeast coast. This beach is a welcome escape from the crowds in Honolulu. However, what may seem like a secluded spot could quickly turn into much more exposure than you bargained for, so proceed with caution if privacy is what you're seeking.
MOLOKAI
Molokai is the least visited of the main Hawaiian Islands (not including Kaho'olawe, which is closed to the public).
Papohaku Beach, one of the world's longest beaches, almost guarantees a private, isolated area for sunbathing joy.