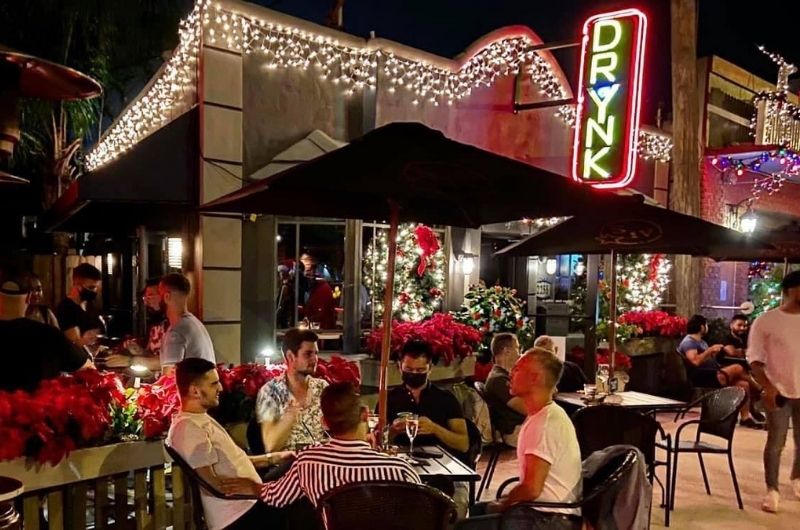 When it comes to sunny and seductive gay-friendly travel destinations across the country, Fort Lauderdale, the gay capital of Florida, is hard to top. This coastal city is home to pristine gay beaches, several male-only gay resorts, and a booming number of gay-owned businesses. Gay nightlife in Fort Lauderdale can be found all across the city, but it is mainly based in the vibrant "gayborhood" of Wilton Manors, which comes alive at night every day of the week. As residents of Wilton Manors, we've compiled a list of our favorite places that we keep going back to again and again. Whether you are looking for a vibey lounge or a lively nightclub, Fort Lauderdale teeming with a variety of gay bars to suit all different interests.
Cocktail Lounges
Looking for a moody lounge or a laid-back patio to enjoy delicious drinks and good conversation? These two cocktail lounges are our top picks.
1. DrYnk Bar & Lounge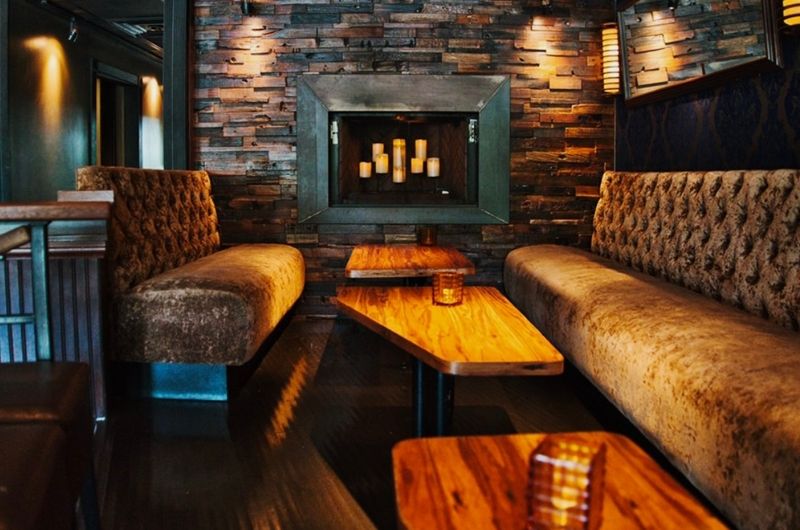 Neighborhood: Wilton Manors
Address: 2255 Wilton Dr, Wilton Manors, FL 33305
Best For: Elevated Drinks with a Serene Back Patio
Tucked inside Wilton Manors, DrYnk Bar and lounge delivers in every way. With chic decor, comfortable furniture, dark velvet walls, and intimate lighting, DrYnk is elegant and stylish, but never pretentious. This trendy lounge welcomes guests with a comfortable environment from the moment you enter the establishment. The personable bartenders will address your every need and guarantee an over-the-top first-class experience. While the interior is sumptuous and modern, guests can head out to the beautiful and sprawling back patio for a quieter setting. While music is always playing at DrYnk, the atmosphere makes it easy to engage in good conversation.
A true cocktail lounge in every sense, the foundation of every DrYnk experience is their craft cocktails. Patrons can expect light and refreshing creations featuring kiwi, passionfruit, and cucumber. One of our absolute favorite drinks is the award-winning smoked old-fashioned. That being said, everyone is welcome at DrYnk including those who prefer a cold beer over a cocktail. Make sure to stop by DrYnk for Happy Hour from 2-7 p.m. for a great discount on drinks that you won't want to miss out on.
2. Infinity Lounge
Neighborhood: Wilton Manors
Address: 2184 Wilton Dr, Wilton Manors, Florida 33305
Best For: Intimate Environment and Award-Winning Drinks
Amongst the playful and packed clubs that Wilton Manors is known for, Infinity Lounge makes for a far more calming experience. Within blocks of what is known as "the Strip," Infinity Lounge is one of the most sophisticated gay bars in Wilton Manors and a luxurious addition to Fort Lauderdale's nightlife scene. With twinkling chandeliers, custom white seating, and other stylish decors, Infinity Lounge's cute interior is small yet intimate. Guests can also expect a bit of an older crowd, creating a different ambiance to other gay hot spots in Wilton Manors. 
At Infinity Lounge, the talented mixologists use the freshest fruit and top drink brands to whip up some of the most delectable cocktails in all of Fort Lauderdale. Order your favorite cocktail and grab a spot on the sidewalk, which provides ample seating and looks out on Wilton Drive. A great place to join your friends or make new ones, Infinity Lounge is ideal for a carefree afternoon happy hour that is guaranteed to lead to late nights out on the town.
Gay Night Clubs
After enjoying craft cocktails at DrYnk or Infinity Lounge, the night is still young! Your next stop? One of the many gay nightclubs populating Wilton Manors.
3. Hunters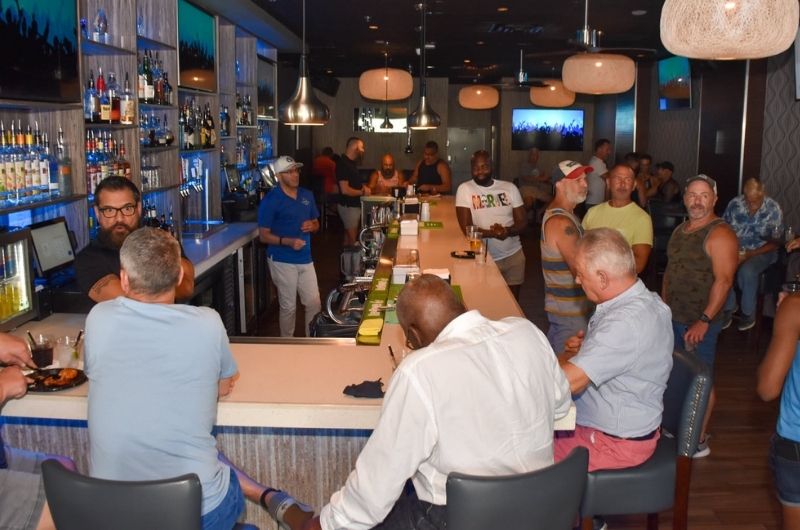 Neighborhood: Wilton Manors
Address: 2232-2238 Wilton Dr, Wilton Manors, FL 33305
Best For: Dancing, Delicious Drinks, and Go-Go Dancers
While we all love an intimate conversation over a tasty cocktail, sometimes the night calls for wild dancing and disorderly fun that extends into the wee hours of the morning. While Fort Lauderdale has no shortage of gay clubs, Hunters is by far the poshest. Owned by the same group that owns the Hunters Night Club and Bar in Palm Springs, this contemporary spot features a spacious, multi-level dance floor, separate lounge and bar areas, and huge screens on the dance floor that project mash-ups of music videos that pair with the songs being played. Guests can also expect an advanced light system, a state-of-the-art sound system, dangerously sexy go-go dancers on the weekends, and internationally acclaimed DJs.
Hunters exudes passion and energy as they serve up quality drinks, dancing, and daily entertainment which attracts a mixed crowd. While dancers can expect an elevated clubbing experience, this is also your place to go for top-40s music with little to no remixing. Routine karaoke, trivia, line dancing, and cabaret nights draw in legions of locals every day of the week.
For us, Hunters is a place we often take our straight friends when they visit and want to experience a night out in the gayborhood. Unlike some of the other clubs on this list that play heavy circuit music or offer a "backroom" experience, Hunters is seemingly your most generic of the bunch, but in the best of ways.
4. The Manor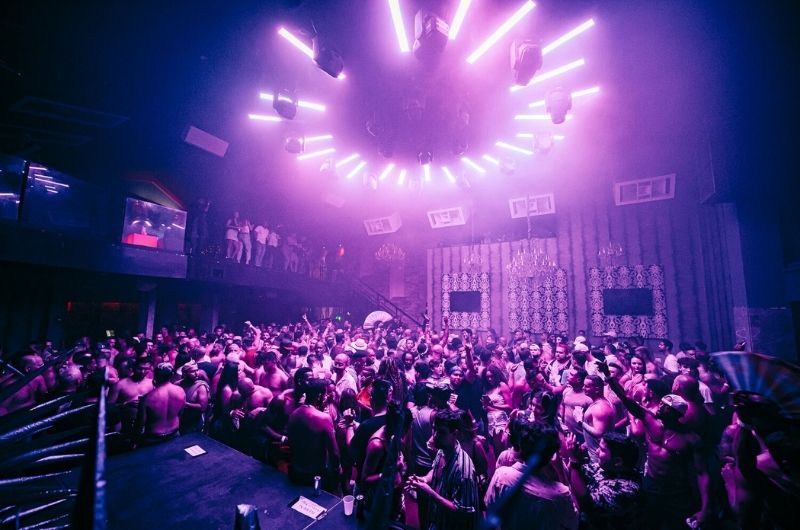 Neighborhood: Wilton Manor
Address: 2345 Wilton Dr, Wilton Manors, FL 33305
Best For: Top-Notch Dancing and DJs
For a more lively experience off of Wilton Drive, The Manor Complex is a gay nightclub, ultra lounge, and restaurant rolled into one. As the name suggests, The Manor is a massive two-level nightclub, with multiple large rooms, each one featuring different styles of music. Whether you want to dance to house, circuit, reggaetón, or Latin music, there's something for everyone at the Manor. The Manor also often features top names in the music industry that will attract dancing divas and music lovers alike. Guests can also expect impressive production, lighting, and sound systems.
The Manor truly comes alive after 11 p.m on a Saturday. This is when one of the "big" rooms opens up and a well-known name in house or circuit music will spin, including such names as Abel, Alexander, Alex Acosta, or Nina Flowers (these regularly go until 4-5 am). That being said, there's no bad night or time to show up at The Manor. Whether they are hosting a fashionable theme night or an entertaining stage show, every weekend brings a new event to this popular spot. On special events (holiday weekends, gay pride, Halloween) they open up the "White Room" which is their largest and most impressive space.
Leather Bars
If you are looking for one-of-a-kind leather bars in Fort Lauderdale, you won't struggle to find them! Here are two of our favorites that stand out from the crowd.
5. Ramrod Leather Bar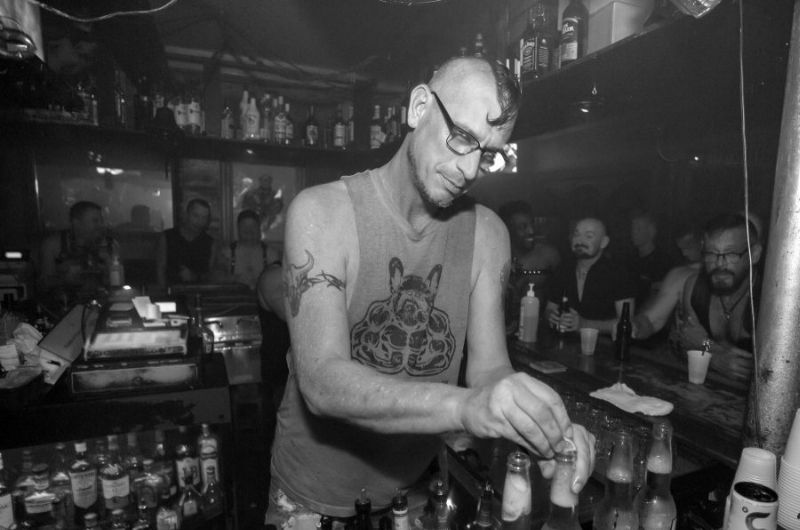 Neighborhood: Middle River Terrace
Address: 1508 NE 4th Ave, Fort Lauderdale, FL 33304
Best For: Fun Theme Nights and Contests
Solid music, grungy vibe, and great drinks – what more could you want? Situated just outside of Wilton Manors, Ramrod Leather Bar has been hosting legendary parties for over 25 years with no sign of slowing down anytime soon. This tried and true leather bar is famous for its anything-goes attitude and themed nights. Guests can attend everything from cigars socials to jockstrap nights. Patrons wearing gear get two-for-one drinks on Fetish Fridays, while Saturdays feature caged dangers and guest DJs all night long. Every night of the week an adventuresome crowd gathers to dance to house music, listen to well-loved DJs, and sip cocktails on the outdoor patio bar.
Make sure to not head over to Ramrod's too late, as this popular bar tends to attract an older crowd and is usually pretty crowded by 11 p.m. Keep in mind, Ramrod is a men only-bar (often with a strict dress code), and the bouncers have no issue enforcing those rules!
6. The Eagle Wilton Manors
Neighborhood: Wilton Manors
Address: 2209 Wilton Dr, Wilton Manors, FL 33305
Best For: Grungy Underground Bar with Diverse Music
Drawing inspiration from the bars in Berlin, The Eagle is an underground bar with a dark, gritty, and industrial feel. Of all the bars in Wilton Manors, this is one of our favorites, simply due to the variety of music and quality of DJs, such as Ralphi Rosario (who we've had the pleasure of seeing twice at The Eagle in the span of 4 months). When visitors walk into the space, they will be met with multiple rooms with different bar areas, and one main dance floor with a wonderful combination of circuit music, techno, and house music. The Eagle does have a "backroom," a place where guys can cruise and hook up if they want to, that is separated from the rest of the bar (you'll only be allowed in if you take your shirt off). 
People love it here and many claim The Eagle to be the best-hidden secret in Wilton Drive.  Many boys are even willing to trek up from Miami for a night at this popular leather bar. While the crowd is very mixed, the bar caters to the leather, bear, and fetish communities. Regular events include jockstrap night, full moon parties, bear-eoke, underwear night, and much more. Pro tip: the vibe is grungy and dirty, so you want to avoid the bathrooms here if possible. 
There is no dress code enforced at The Eagle.
Gay Strip Clubs
Sometimes the night calls for a gay strip club, and if it does, Fort Lauderdale has the perfect places for you.
7. Johnsons Fort Lauderdale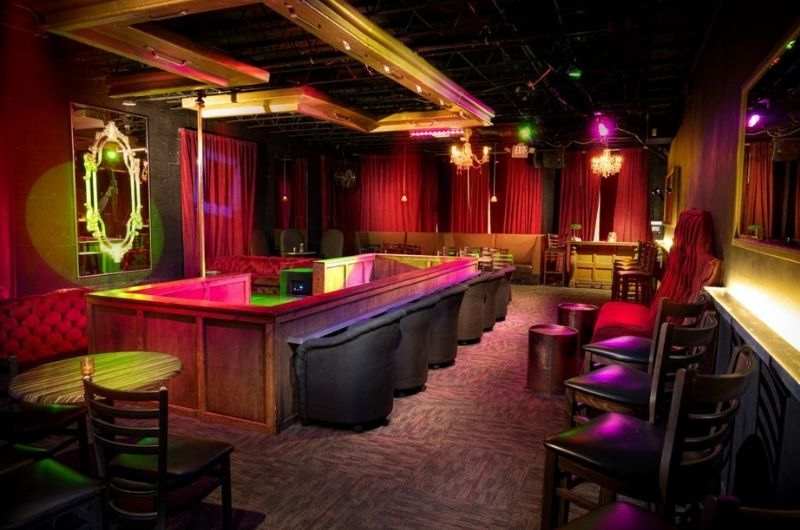 Neighborhood: Wilton Manors
Address: 2340 Wilton Dr, Wilton Manors, FL 33305
Best For: Posh, Speakeasy Strip Club
If you are a first-timer in Fort Lauderdale, a trip to Johnsons should certainly be on your bucket list. One of the better-known gay strip clubs in Wilton Manor, Johnsons strikes the perfect balance between posh and down-to-earth. Technically a "speak-easy" this lounge club features live male entertainment every evening, which is then followed by dramatic burlesque performances that Johnsons has become famous for. Guests can expect a fairly mixed crowd and a variety of strippers including muscular strippers and twinks. Some strippers are on the younger side, while others are on the "daddy" side.
If you show up at Johnsons after 8 p.m. there will be a cover charge, but the affordable drinks inside make it worth your while. The cover charge changes on a day-by-day basis, so check out Johnson's website for more information. If you are residing in Fort Lauderdale or Miami, certainly consider becoming a member at Johnsons for entry discounts and deals.
8. Le Boy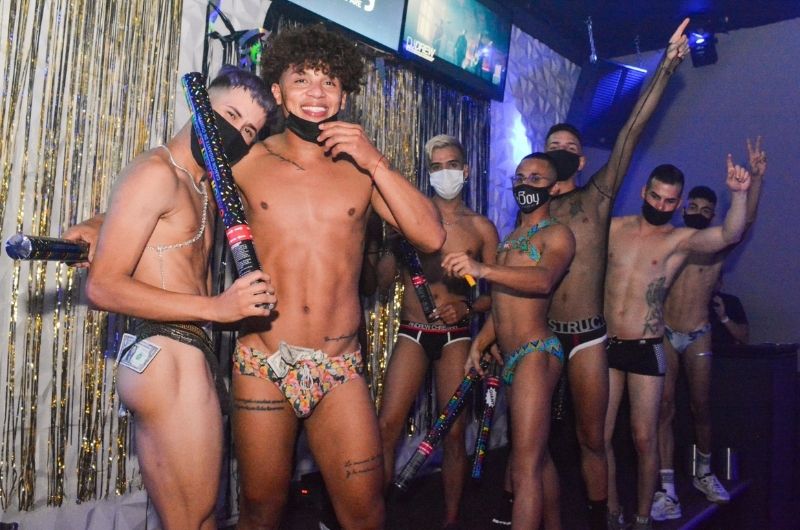 Neighborhood: Lake Ridge
Address: 1243 NE 11th Ave, Fort Lauderdale, FL 33304
Best For: Wild Theme Nights with Incredible Drink Specials
If you're looking for a gay bar outside of Wilton Manors, Le Boy makes a great go-to. Situated in Lake Ridge in Fort Lauderdale proper, Le Boy features an outdoor patio and full bar, incredible drink specials to look out for, and the occasional drag show. Every night of the week has a special theme that allows interested patrons to enjoy Le Boy every day of the week. Guests can enjoy STRIP Saturdays with DJ Richie Rich and Hot Boy Sunday with Coco Iman.
One of the biggest perks of Le Boy? People who are 21 and older don't need to pay a cover on most nights. Although Le Boy is a lesser-known spot compared to Johnsons, it boasts a similar stripper situation. However, Le Boy is known mostly for having much younger dancers and twinks. It also tends to draw in an older crowd.
Restaurant Service Bars
On evenings when you are looking to enjoy a night and a bite to eat, here are some go-to restaurant service bars that will not disappoint.
9. Rosie's Bar And Grill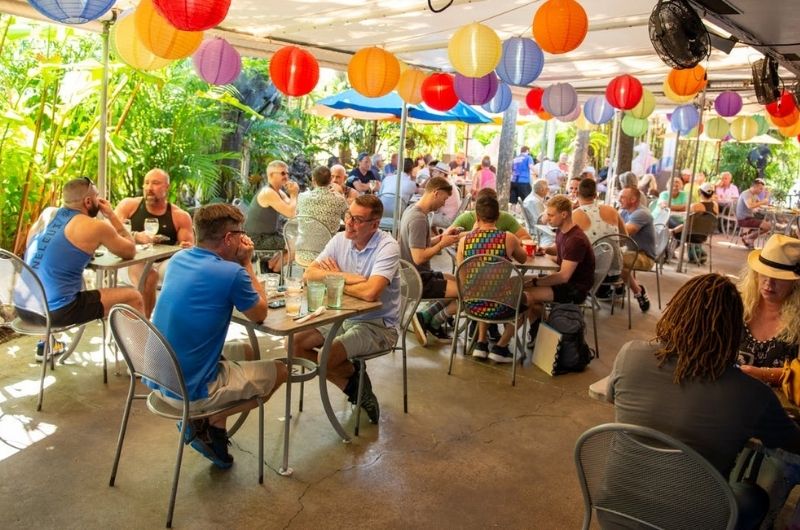 Neighborhood: Wilton Manors
Address: 2449 Wilton Dr, Wilton Manors, FL 33305
Best For: Brunch with the Boys on Sundays
With a lively atmosphere that's bustling morning through night, there's always a party going on at Rosie's Bar and Grill. What used to be Hamburger Mary's, a separate gay restaurant chain that has locations in multiple cities, has since broken off from the organization and transformed into a new restaurant bar with a different name. A great place to see and be seen, Fort Lauderdale can't get enough of the laid-back vibe, friendly staff, and outdoor patio at this charming and colorful spot. 
Sunday Funday is a popular time to enjoy a meal at Rosie's. Featuring a DJ and beer buckets all day long, this is a perfect spot for brunch with the boys. Known for its marvelous mojitos and whimsical menu, you can't go wrong with one of the many creative burgers to choose between.
10. Georgie's Alibi Monkey Bar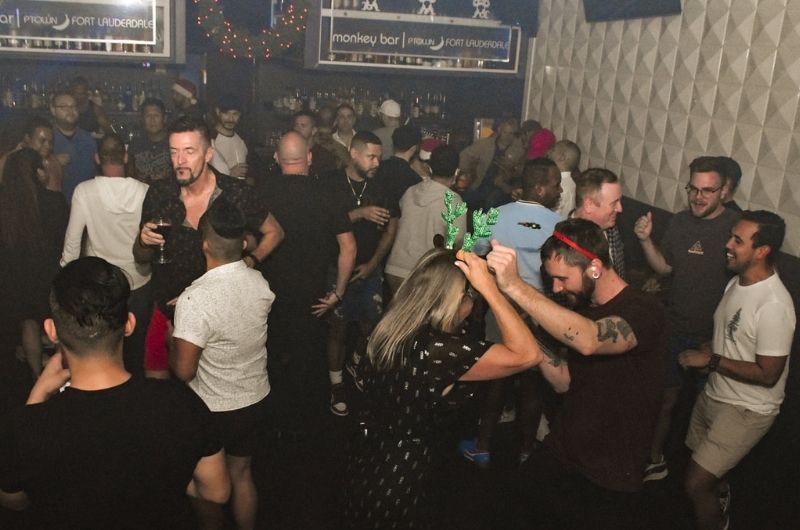 Neighborhood: Wilton Manors
Address: 2266 Wilton Dr, Wilton Manors, FL 33305
Best For: Dinner, Drinks, or Dancing
If you only make it to a few gay bars during your Fort Lauderdale stay, make sure that Georgie's Alibi Monkey Bar is one of them. One of the most well-known gay bars and clubs in all of South Florida, this renowned joint has been hosting high-energy parties for over 25 years. Serving up a sizzling atmosphere morning through night, Georgie's Alibi is divided into four distinct sections with different vibes: the Patio, the Main Bar, the Sports Bar, and the Monkey Bar.
During the daytime and evening hours, guests can (and should) take advantage of Georgie's incredible menu, which includes award-winning burgers. Visitors also rave about the drink specials, which include a two-for-one happy hour during the week and $3 Long Island Iced Tea Nights on Thursdays. After a certain hour, the club side of Georgie's turns into a full-blown nightclub where party-goers can dance the night away. If you aren't feeling the main room's techno situation, you can easily head next door to the adjacent Monkey Bar and dance to a mix of pop, hip-hop, and reggaetón.
11. The Pub Wilton Manors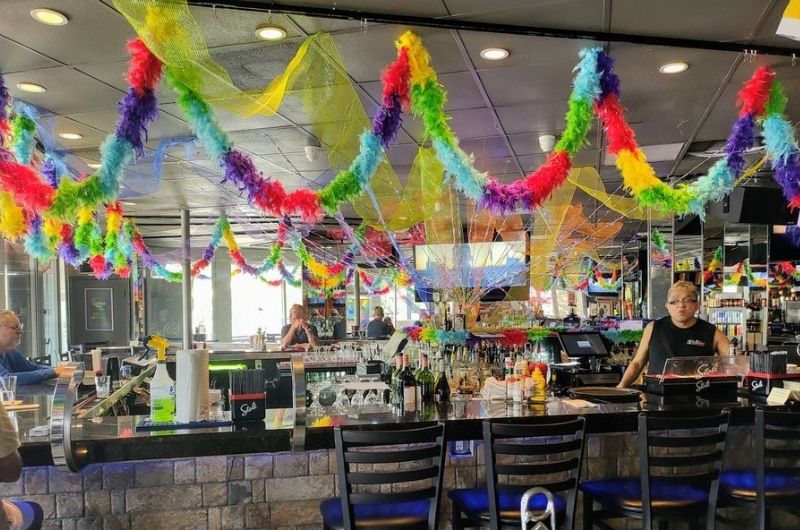 Neighborhood: Wilton Manors
Address: 2283 Wilton Dr, Wilton Manors, FL 33305
Best For: A Casual Night with Tasty Pub Fare
Whether you are looking for a place to watch the big game or dance the night away, The Pub is a great go-to spot. Founded in 2012, The Pub has solidified itself as a Wilton Manors main-stay. This decade-old institution hosts events most nights of the week featuring both local and internationally known performers and DJs. Guests can also enjoy fun-filled drag or cabaret events with different themes such as "Ladies Who Brunch" and "Drink and Drag."
Aside from the lively atmosphere, people come to the Pub for delicious food and drink.
Naturally, the food tends to be pub fare with dishes such as specialty burgers, chicken wings, and shareable plates. With daily food specials and 2-for-1 happy hours, this popular gay entertainment venue is an ideal place to meet and mix with locals.
12. Apt 9F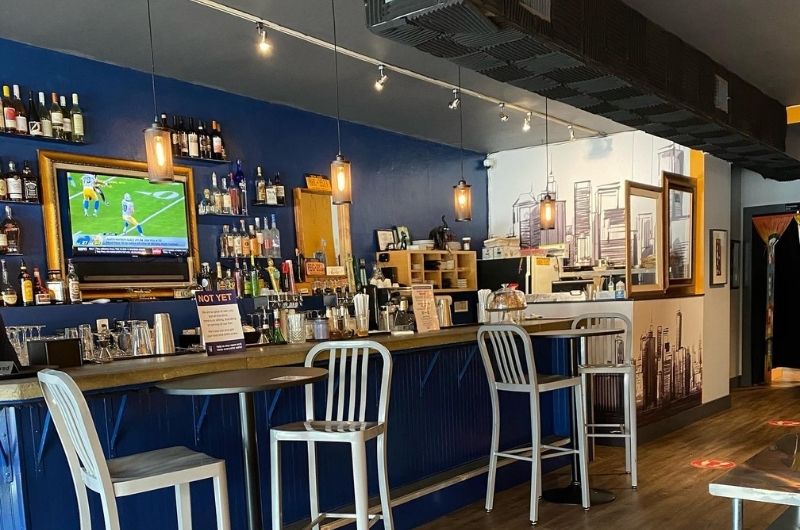 Neighborhood: Wilton Manors
Address: 2163 Wilton Dr, Wilton Manors, FL 33305
Best For: Boozy Sunday Brunch with Original Craft Cocktails
For a laid-back vibe and a good time, head over to Apt 9F. Everyone who drinks and dines at this social eatery instantly feels right at home. Guests can savor a wide variety of original and classic cocktails, with each beverage tasting just as delicious as the last. 
While guests can enjoy a daily happy hour from 4-7 p.m., make sure to make the most of $5 Martini Monday with jumbo chicken wings and Wine Wednesday with half off select bottles. 
This intimate drinking den is also well known for its delectable Sunday Brunch fare which includes dishes such as banana nut pancakes, prosciutto eggs Benedict, and beef Wellington with eggs.
Happy Hour Hot-Spots
When it comes to a weekday night out, it's all about revolving your night around the best happy hour steals and deals. Here are two of the best hot spots for HH.
13. LIT Bar WM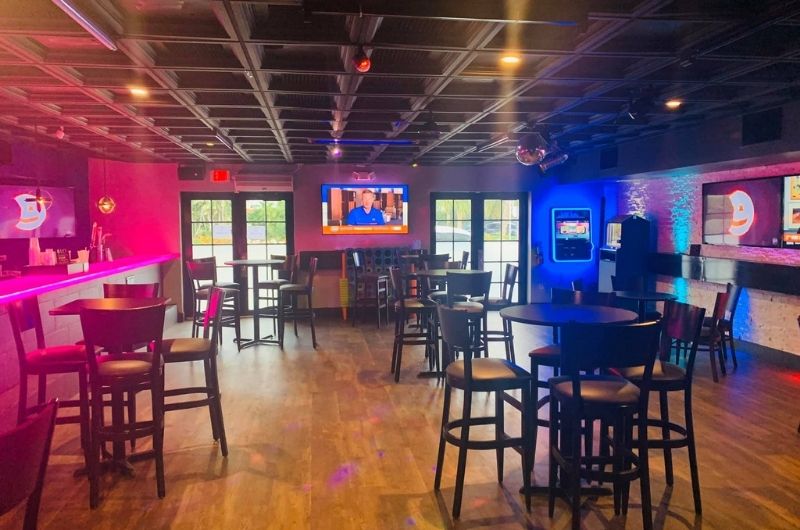 Neighborhood: Wilton Manors
Address: 2440 Wilton Dr, Wilton Manors, FL 33305
Best For: Happy Hour and Games with Friends
There's no better place to get lit than LIT Bar WM. Guests can choose to enjoy a drink in the moody and dark interior or sit outside on the outdoor patio covered with lush tropical greenery. Previous diners have raved about the welcoming and friendly staff, as well as the variety of board games available for use.
Like many of the bars in the area, LIT bar features various theme nights and events throughout the week including dart tournaments on Wednesdays and Drag Races on Thursdays. One of the biggest perks? This gay bar has a place for private parking.
14. Gym Sportsbar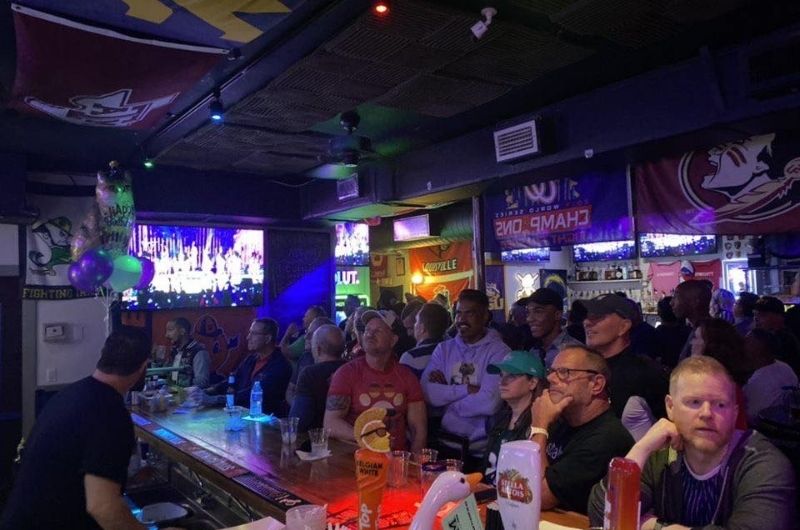 Neighborhood: Wilton Manors
Address: 2287 Wilton Dr, Wilton Manors, FL 33305
Best For: Pub Fare and Watching the Big Game
Dubbed America's most popular gay sports bar, Gym has locations in Los Angeles, Manhattan, and most recently, Fort Lauderdale. The go-to spot if you want to watch the big game, there's always a sports game on at Gym Sportsbar. Surrounding the large, high-definition screens is a pool table, darts, and a basement lounge, meaning that there's something for everyone (even if you aren't a sports fan).
As diners cheer on their favorite team they can tuck into various pub fare including burgers, fries, and wings. Once a month, GYM also hosts an event called "Taco Bear" – a craft beer event catered towards bears and their friends. Aside from the stellar entertainment, 2-for-1 drinks until 9 p.m. make this happy hour spot absolutely worth your while.